Some time during the summer of 2011, in between prepping for crazy CPB Lisbon, drowning myself in book after book, taking time off to visit home, I reached out to Lydia Howland, Head of Human Factors at IDEO, to ask for potential opportunities for my upcoming research. She kindly introduced me to Sally Spinks, Organizational Designer at IDEO in London office. Today, I had a chance to speak with her, my first field work outing.
When I arrived at IDEO, I was surprised by the warm welcoming of the receptionist, followed by Sally from around the corner. "Can I take your coat, would you like a drink?"—the receptionist asked, while Sally greeted me at the door. Walking into their office, it was nice to see how everyone seemed quite mellow, small groups occupying their own spaces within a relatively small, but comfortable working space. I realized most of the office had clusters of people in different working areas, hardly one working solo, apart from the receptionist. The atmosphere was friendly, warm, no odd stares from people around. They were all happily occupied. At that moment, I thought to myself, "So this is what IDEO
feels
like...". I've always read about it, heard about it, studied their work as secondary research...perhaps this is a part of what they preach—
'human-centered-ness'
. I walked through a narrow corridor, following Sally to one of the meeting rooms.

I began introducing myself, a bit about where I was from, how I ended up here, and my interest in this area of research—it basically came down to a mash up of all my hobbies and interests when I was growing up—play (Lego, guns, bow & arrows), fun & art (drawing cartoons, painting, paper-mache), school was all about play and fun-ness growing up in Toronto, board games (Monopoly and Cluedo was my fav), interactive books (back then we had 'Choose Your Own Adventure' books, and 'Where's Wally?'), video games (Mario Bros, Street Fighter! Crime solving Role Playing Games...), online games MMORPGs (World of Warcraft, Sims), action based RPGs (Metal Gear, Resident Evil), design (majored in visual arts & new media design), positive psychology (took an introductory course in psychology in university, surprisingly also Buddhism and its philosophies), creativity (was what got me in trouble ALL THE TIME)....now innovation...and how to manage it...CSM MA Innovation Management.

After listening to me, and hearing about my research, Sally took me through some of the usual IDEO processes and methodologies, but informatively re-framing them in an organizational design context. While showing me some presentations with case studies and past projects, she explained that organizational design is included as part of the services they offer to clients, along with product and/or service design. She carefully explained that innovating in organizational design is to act as a support to the delivery of something else:


"Innovation is not a goal. Innovation is in service of something else." — IDEO


I now better understand the role of organizational designers in IDEO, they innovate around a product or service to help smoothen the process and increase the probability of this product of service to reach the market and have a real impact on the users or to create new value.
She stresses the point of how successful innovation means answering 3 questions:
Why innovate? (Have a clear innovation mission..."lets innovate!" is not enough)
What kinds of innovation? (Have a clear innovation strategy)
How to innovate? (A designed "innovation ecology" to support people)
The former two points seem logical, it would be fundamental to ask yourself
why
and
what
an organisation wants to be addressing. I'm interested in IDEO's
'
How'
. And so I asked...
IDEO considers 12 organizational elements that make up an innovation ecology: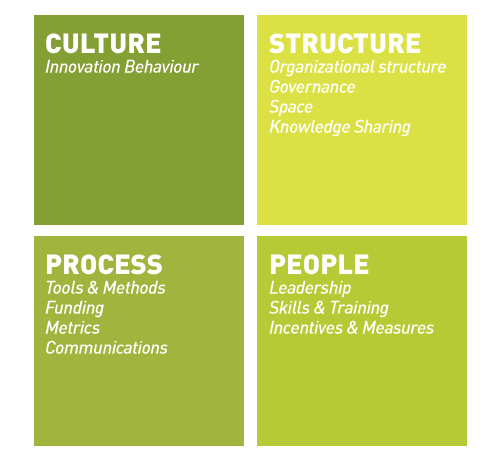 Adaptation of IDEO's Innovation Ecology
IDEO believes, when these elements are taken into consideration as organizations design their innovation ecologies, it will enhance motivation and engagement—simply to enable employees to enjoy going to work, making it a pleasurable experience.
More and more companies are beginning to realize the importance of employees' well-being—his or her psychological climate that will directly affect organizational climate and therefore its processes, people and performance. IDEO's 12 elements further support the outcomes of many research studies revolving around creativity, organizational behavior, performance, motivation, which are all contributing factors toward a healthy workplace.
Looking at the 12 elements over 4 areas, I tried to map the elements of the new model of Change Play Business across these 4 areas. The findings are very much in support of one another. Many of these elements are further backed up by a myriad of research outcomes which I have collected over a range of literature review—creativity, performance, engagement, organizational behavior in relation to innovation potential.